Biking to school or workplace is cheap and a fun experience, with a bonus of better physical and mental health that one can achieve with it. The only trouble one might face with this exercise is the pain of carrying things around, and even more than that, deciding what should go in your backpack and what shouldn't. To ease this pain for you, we have come up with a list of the best biking backpacks that will help you make your biking experience even more convenient and fun.
To further help you decide on the right biking backpack for you, let us first look at the various factors one should consider before making that right purchase.
*The product links in this post are affiliate links, which means that if you purchase after following one, I make a small commission from the sale at no additional cost to yourself. Please see our disclosure page for more information.
Top Picks
Best Biking Backpacks
Timbuk2 Especial Medio 30L
Ortlieb Velocity
Camelback MULE
PRVKE Travel camera Cycling Backpack
Brooks Pickwick Daypack
Deuter Giga Pro
Proviz Nightrider
Vaude Hyper
Nomatic Cycling Backpack
Pelican Mobile Protect
1. Timbuk2 Especial Medio 30L
At the top of our list as one of the best biking backpack is the Timbuk2 Especial, ranking high mainly because of the extensive storage capacity that it offers well suited for all over-packers out there. It sports an expandable front panel and compression straps. The top-loading bag has a dedicated storage room for a 15-inch laptop, with dual external bottle pockets, a TPU front panel, and water-resistant zippers acting as a temporary barrier to the pouring rain allowing you to easily cover the last few meters to home.
To ease your shoulders the shoulder straps are well padded, and to ease the heat on your back the straps are vented too and so is the back panel allowing nice airflow.
This beauty comes only in black which on a plus side is effective in shadowing the dirt and grime that might gather and also has reflective logos so that you are distinctly seen on the road outdoor.
2. Ortlieb Velocity
No products found.
A biking specific messenger-style backpack, this backpack is another list topper. It allows you to easily alter its size according to need, thanks to its classic roll-top closing system. The top roll also works amazingly to keep the water out of the backpack making it a perfect fit for wet weather biking rides. Talking of wet weather, if water-proofing tops your priority list then this is what you should go with for Orlieb as a brand, is known to specialize in waterproof equipment.
This backpack allows great storage space with its 24 liters of storage room in its main compartment. The zipper pockets inside are perfect for holding smaller items like coins or keys, and another detachable one large enough to store your smartphone.
The comfortably padded shoulder straps are fully adjustable and help you hold the pack close to the body, a feature almost every biking athlete looks for. The foam back panel keeps your back cool by allowing pleasing airflow.
A small yet effective feature is the top handle that allows you to carry your backpack via hand if you ever wish to.
This Velocity Backpack comes in a wide range of funky colours including black, yellow, lime, aquamarine and white. All in all it is the best backpack for biking by a lot of measures.
No products found.
3. Camelback MULE
One of the most striking features of this backpack is the 3 liters hydration system of top quality that it boasts of. This can be a perfect match for bikers who wouldn't want to stop intermittently for water breaks, thanks to the hose mounted in a very comfortable position allowing on-the-go hydration to its wearers.
Additionally, it also sports an extra 9 liters of cargo space to carry the essentials. The MULE is specifically designed to also carry a helmet, biking tools, pump, spare tube, a snack/meal, your phone and keys, thus allowing you to carry absolutely everything wherever and whenever you need.
An XV back-panel integrated to it using a multi layer EVA foam extends outstanding comfort and ventilation in a light weight package. And so are the straps with light foam and mesh.
The MULE backpack stays completely stable in all road con ditions allowing you to easily swap between roads.
The backpack offers a great combination of colours including charcoal, charcoal and white, charcoal and blue, charcoal/atomic/Barbados and Barbados cherry.
4. All New PRVKE 21L Travel Camera Cycling Backpack
If you are very much keen on capturing the places that you visit and always like to carry your DSLR with you, you might want to consider getting this All-New PRVKE cool backpack as your biking companion. It offers specially designed pods for storing your travel camera along with up to 8 lenses. The sleek design also allows you to store your 15in laptop, your smartphone, and more. Strap your tripod to the bottom, saddle up and go. The backpack also offers a water-resistant tarpaulin and nylon shell that will not allow the rain to spoil your stored gadgets. The shoulder straps are padded and comfortable allowing hustle-free transport.
All in all this super-cool DSLR friendly pack can be the best backpack for you.
All-New PRVKE 21L Photography Travel Backpack
Pack your whole life story down to cushy, removable cubes. By seamlessly customizing its organization, this camera bag will become your everyday bag. Features a hidden passport pocket, expandable water bottle/tripod pocket, secure front pouch, and laptop/tablet sleeve, all lined with fuzzy fleece.
5. Brooks Pickwick Daypack
If all the technicalities of the other backpacks on this list make you cringe and all you are looking for is a simple and decent pack with just what's needed, then this Daypack is the one for you. This Italy-manufactured backpack is definitely a fashion-icon, especially for daily commuters. The bag is made from water-resistant cotton canvas. The roll-top closure reveals a cavernous main compartment allowing you to adjust the storage capacity. The bag also features dedicated tool pockets making the process of finding tools less troublesome. The super-adjustable shoulder and sternum straps allows to the comfort you need.
This backpack gives you the option to choose from a 12L and a 26L capacity packs so that you find your ideal match based on your size needs.
Brooks England Pickwick Day Pack
Brooks England Pickwick Day Pack, Small, Goosebeak/Maroon, A roll-top closure that protects its contents from the elements, a large front pockets, side pockets and elastic net.
6. Deuter Giga Pro
No products found.
Another backpack on the list that allows its wearers massive storage options is this Deuter Giga Pro Backpack. It is very much organised for anything and everything you might need. The zipper pockets in the front are perfect for storing your phone and wallet. The other internal pockets gives you a something hidden in your backpack.
For rigidity the bag has a flat steel frame despite which the bag isn't too heavy. For your bottles there's the stretchy mess pockets on the side. For your laptop is a well-padded laptop area for upto 15.6" laptops. There's a dedicated compartment for your files and documents, and a special organizer pocket to store pens, tools and other small items. Basically there is everything for everything that you may need.
Another thing that adds yet another star to this backpack is the stability that it offers despite the size. Padded shoulder straps, sternum strap and detachable waistband help you keep the backpack in its place, offering you comfort too.
It however comes only in black. Otherwise, this is the best backpack for all your biking needs.
No products found.
7. Proviz Nightrider
If you are a night-rider and are concerned on getting seen in the dark while you bike, this backpack offers exactly that. It is made of highly reflective panelling and trim, with a removable booster triangle to ensure that you are visible also in low light conditions.
The 10 litre version despite being small is highly functional. For starters it is compatible with a hydration system. The 600D nylon fabric is heard wearing and the PVC coating keeps your bagged contents dry in light rain conditions. The outer pocket allows you to store your phone and wallet in an easily-accessible area.
This Proviz Nightrider does a great job of holding your essentials such as tools, snacks, and an extra layer. It is available in yellow or black.
8. Vaude Hyper
Another small backpack with amazing capacity on the list is this Vaude Hyper. It is a 14 liters bag that has expansion bellows to increase the capacity by another 3 liters.
It features a State of the art FLASH harness system allowing a secure fit against the rider. The VENTEX suspension system with an anatomic back panel conforms to the curves of the rider's back thus allowing comfort.
As for its functionality, the bag features a helmet-holder, side compression straps, side mesh pockets, a hydration hose opening, reflective elements and a safety light attachment.
This feature-packed bag comes in shades of black, grasshopper and Indian red, and is one of the best backpack options that you can go with.
9. Nomatic Cycling Backpack
If you normally have to leave your cycling bag at places like work or school and are concerned about the safety of your belongings, without compromising on storage capacity, then this backpack option happens to be just for you. With 20 liters of storage capacity, a side-handle to carry like a briefcase, and a thick, waterproof shell, this backpack has to offer it all. RFID safe storage, magnetic water-bottle pockets, and extremely light-weighted, the Normatic backpack is one of the best backpacks for biking commuters like you.
Sale
NOMATIC 30L Travel Bag- Duffel/Backpack
NOMATIC 30L Travel Bag- Duffel/Backpack, Carry-on Size for Airplane Travel, Everyday Use with TSA Compliant Built in Laptop and Tablet Sleeve, Water Resistant, Ventilated Pockets.
10. Pelican Mobile Protect
A great capacity backpack, this backpack can be the perfect option for daily commuters like you. There are dedication places to safely store your laptop, your running shoes, a rain jacket, water, some snacks, a bike pump. A U-lock and more.
The 1000D water-resistant nylon shell keeps all your belongings dry and away from the water during sudden splashes that you might encounter. Speaking of comfort, the shoulder straps are of moulded EVA and the backpack is extremely light in weight. At 35 litres, this Pelican Backpack is the largest biking backpack on the market, and a must-consider option for you.
Factors To Consider Before Making the Right Purchase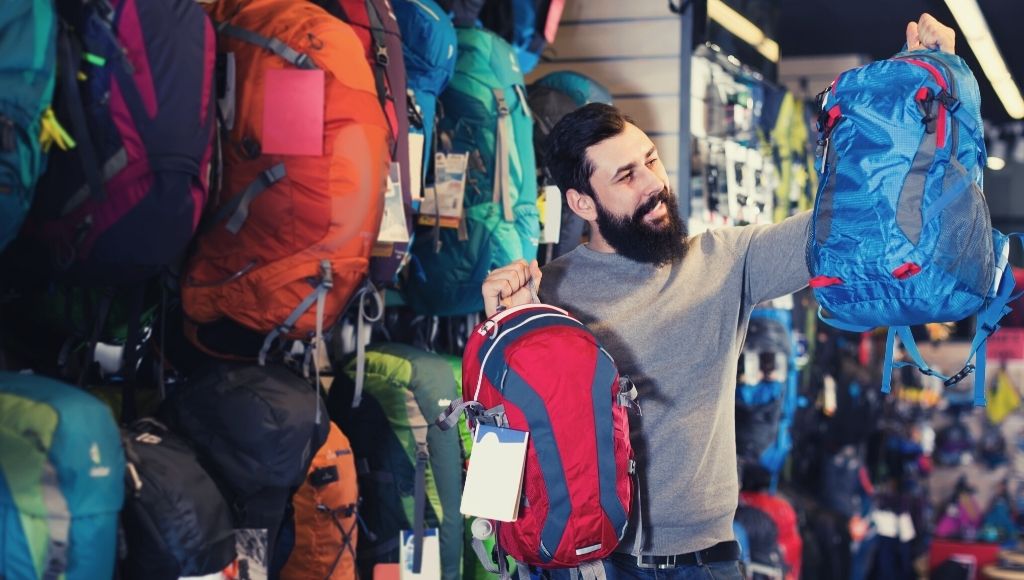 Capacity
Your choice of backpack might vary greatly with the purpose you want to use it for. Of course to carry essentials but how do you define your essentials? What goes in and what doesn't? If you intend to use the backpack for holding all your stuff for your long weekend trips, a 20 to 30 litres of storage would be the best backpack to go with. On the other hand, if your only motive is to use the pack to carry your laptop and documents to and fro your office route, a smaller biking pack would serve the purpose just right.
Waterproofing
No matter how you use your backpack, you wouldn't ever want to get all the items under storage to get wet and soggy. Imagine what a nightmare it would be if your gadgets get hold of water and stops working as a result. To avoid this nightmarish situation is why it becomes so important to invest in a waterproof backpack for your biking needs. It becomes ever so important in the areas where the spring showers are abundant and strong.
Pockets
To avoid wasting time searching for things every time you open your backpack, it is important to have adequate number of well-padded pockets and divisions in your pack. For instance, one large enough for your quick snacks and one dedicated for your cell-phone. Do not miss checking for this feature in your backpacks before you can actually call it yours.
Padding in the Straps
Another important factor to consider is the padding in the straps, for you would like to strain your shoulders to the minimum while carrying the heavy load on your back. Also, adjustable shoulder and waist straps go a long in offering you a rather painless ride.
Breathability
While biking does burn a lot of calories, it is bound to get you all heated up and sweaty in the process. And so look for plenty of air channels in the back to allow the air to flow and keep you cool throughout.
Hydration System
For biking long distances you would surely want to stay hydrated throughout and that is when a hydration hump helps a lot. Do look for the backpack equipped with the right hydration system suitable for your needs.
Now that you are sure and thorough with all your requirements from your biking companion, here goes the list of the best backpacks to support all your biking needs.
Conclusion
If you are an avid biker or a frequent commuter, comfort is of utmost importance to you. Consider your requirements and choose a quality backpack that fits right with all those requirements. Your biking backpack is going to be your biking companion for a long time. And so it becomes all the more important to find the perfect match for yourself making your biking experience more enjoyable and wholesome.
You may also like: