There was a time when you needed the top bucks to get small yet powerful computers for travel, but that's no longer the rule. If you are looking for a great laptop to take on a camping trip the best lightweight laptop with long battery life would be a great choice. That's what we are going to look for today.
*The product links in this post are affiliate links, which means that if you purchase after following one, I make a small commission from the sale at no additional cost to yourself. Please see our disclosure page for more information.
Top Picks
Huawei MateBook X Pro Signature Edition
ASUS VivoBook 15 Ultraslim
Huawei MateBook X Pro Signature Edition
ASUS VivoBook 15 Ultraslim
What to Look for in a Laptop for Camping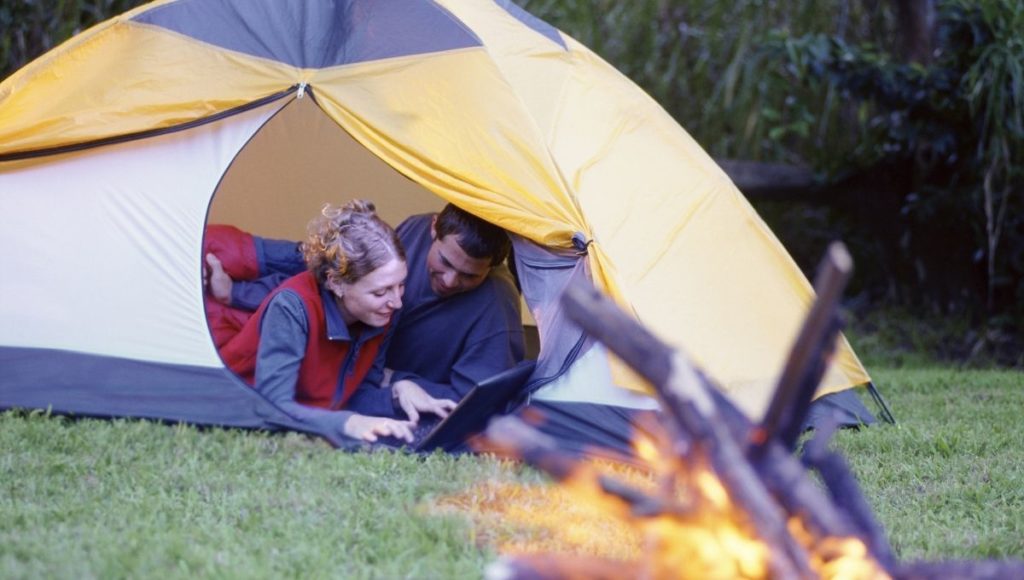 From watch movies to planning hikes, there are many reasons to take a laptop camping with you, but you need to make sure you choose the right one.
A 17-inch gaming beast performs well in the office, but you wouldn't want to be lugging one around with you all day!
So here are a few things to consider before you buy your latest camping gadget.
Battery Life
When a laptop is said to be portable, much is usually said about its dimensions in terms of size and weight. However, there is more stock to be found in a laptop that delivers longer-lasting performance despite its lightweight. On that note, except the laptop has a 4K display or nice dedicated GPU, then you're looking out for a lightweight laptop that affords you at least 8 hours of useful activity. If it has a dedicated GPU, or pristine display, then you can be a lot more lenient with your expectations.
In short, a system is lightweight should not be a reason for the laptop to be without a battery. Instead, it is better for the package to be with a battery life that impresses by taking advantage of the latest battery technology and advancements.
Display
Resolution, touch input and the size of the panel are figures you want to keep your eye on when looking for lightweight systems. It generally depends on your use, but mobility favors panel sizes below 14 inches, after all, lugging around 17 inches doesn't exactly define compactness. Regardless, whatever the size of the screen, ensure that it is designed to provide something close to 1920×1080 when it comes to resolution size, with 1080 pixels on offer in that space.
Note that, if the resolution size exceeds 1920×1080, it might have a telling effect on your battery as it consumes too much power. on the other hand, less is simply not attractive or effective enough in this modern era.
Keyboard and Trackpad Layout
It is easy to underestimate how much a comfortable keyboard layout affects using a laptop on the go. The layout affects both the way the keypad and trackpad units look, as much as it affects the speed of the user depending on how it feels for the user.
Systems with keyboard buttons that require about 0.065kg of force are recommended since they deliver optimal ease of use. Usually, the buttons on these lightweight laptops are tightly packed to cater for their small sizes, fortuitously, this helps users to type even faster.
Another think to consider is the lack of light when camping, so looking for a laptop with a backlit keyboard would be a good idea.
Processor and RAM
It's nothing short of a waste to have an ultraportable laptop that needs one hour to boot or is slow in transitions. You just have to make sure that the processor is speedy enough to complement the mobility of the laptop, otherwise, you'll just be lugging hardware about without achieving anything with it.
A good start is at least a core i5 for your system's CPU. Similarly, there are many travel laptops with greater RAM space than 8gb, so make that the lower limit of your search. A combination of at least a core I5 CPU with a RAM size of 8gb assures you smooth performance, since it's not just about portability but an effective technological solution for people on the move.
Memory Space
This requirement is wholly dependent on your use, but going for smaller memory sizes (like 128gb and 256gb) cost less than the bigger ones (512gb upwards). Of course, if you spend more of your time on the road, then you'll need a travel laptop that can store as much data as possible without the need for a backup. Whatever choice you make will most likely come in the compact SSDs, which have taken over the hard drive market through their faster, robust and generally more reliable effectiveness.
Graphics
Perhaps one area that lightweight laptops don't promise much force, at least compared to their bigger brothers, is in the graphics department. Most of the lightweight laptops out there are endued with Intel Graphics 620 and similar integrated graphics as their graphic engines.
While that doesn't mean you'll be able to use the more-demanding software, it means the less demanding jobs will at least be taken care of. Also, these lightweight laptops don't usually come with dedicated GPUs, the ones that do, certainly rank amongst the best. Thus, there are some on this list.
The Best Lightweight Laptops with Long Battery Life
LG Gram Laptop
Huawei MateBook X Pro Signature Edition
Apple MacBook Air
Lenovo Ideapad 530S
ASUS VivoBook 15 Ultraslim
Microsoft Surface Book 2
Razer Blade Stealth 13 Ultrabook
1. LG Gram Laptop
It's very easy to miss what makes the LG Gram laptop special when going through online specifications of various small laptops for traveling. Of course, the specs of this system is nothing to look down on, with a core i5 CPU that is upgradable to core i7 running on a RAM sizing up to 8gb. Also it's memory space is equally impressive, with a 256GB SSD serving as storage and you can rely on its excellent battery life.
It looks like the average laptop, correcting Dell XPS 13's bezel tragedy by having visible but thin bezels surrounding the display. It's thickness is also normal, with 15 millimeters of thickness hardly an unprecedented move for laptop design. It's footprint isn't novel either and it lacks some cool additions like a Thunderbolt-3 port, but there's a USB 3.0 Type-C port to make do with and a micro SD port, which is manageable, but should have been traded for a full SD card slot.
However, the one time you notice it's uniqueness is when you lift it up, as it's weight is what really boggles the mind. Even with its capable performance, the LG Gram 13 weighs a stunning 965 grams (that's less than 2.2 pounds!). To put it in perspective, other laptops of this class and size weigh 1.3 kilograms on average. That's a difference you're bound to notice.
You're right to be worried of its structural integrity. Although it's reassuring that the laptop is made using alloys of magnesium that allows it to pass drop tests from 1.2m. Ultimately, it's just unbelievable that something so light could have so much intelligence, and you're left wondering how you could have ever thought the LG GRAM was anything except the best definition of a lightweight laptop.
One of the lightest systems around
Great Performance
Good Battery life
Many Ports
Bland Design
Poorly placed Webcam
LG Gram Laptop
LG Gram 14T990-U.AAS8U1, 14" 2-in-1 Ultra-Lightweight Laptop with Intel Core i7 Processor and Wacom Pen, Silver
2. Huawei MateBook X Pro Signature Edition
Huawei doesn't venture much into making laptops, but when they do, they try their best to show that they're the tech giants they actually are. With the Huawei MateBook X Pro, there is a certain refreshing vibe that you get, starting from the fingerprint reader attached to the power button that hastens the log-in procedure for users past the Windows 'sign-in' page. A feature that allows it enter the conversations involving Apple's MacBook Pro and Dell's XPS, while throwing it above HP's Spectre, since the Spectre doesn't have one. 
Of course, the Huawei MateBook X Pro is as pretty as the MacBook Air, but that it's mentioned in the same sentence as such a pacesetter is testament to the elegance of the Huawei MateBook X Pro. Also, the HP Spectre trumps it in both width and weight, but it holds it's own with a thickness of 0.6 inches and 2.9 pounds in weight.
As for performance, Huawei MateBook X Pro is available in two possibilities, a core I5 option and a core i7 machine. The core i7 Huawei MateBook X Pro makes its counterpart look aimless with a Nvidia MX150 graphics card that has 2GB of memory in stock.
Also, the 1.8Ghz processor of the core i7 type runs with a 16Gb-large RAM, all of which combine for seamless, flexible and enjoyable experience while multitasking with the MateBook X Pro. For a deal so good, you can expect some limitations, and this unfortunately found in the very average battery life that can last just over 9 hours and some parts like the Thunderbolt ports and GPU are not the most up to standard examples in the market.
The very latest parts
Awesome battery
Luxurious finish
Great screen
Expensive
GPU is suspect with AAA titles
Huawei MateBook X Pro Signature Edition
Huawei MateBook X Pro Signature Edition Thin & Light Laptop, 13.9in 3K Touch, 8th Gen i7-8550U, 16 GB RAM, 512 GB SSD, GeForce MX150 Space Gray - Mach-W29C (Renewed)
3. Apple MacBook Air
While the iPhone have been facing a lot of competition and come under pressure in the smartphone market, the MacBooks continue to be the standards in the realm of laptops, and the MacBook Air is Apple's to the search for lightweight laptops.
What's not to like in this small laptop for travel? Is its mesmerizing look when dressed in gold? or its unmatched display quality blessed with the better parts of true tone technology? Or is it beneath the surface, where the MacBook Air is among the laptops with the longest battery life.
Whatever the angle it is looked at from, the MacBook Air deserves its place among the best lightweight laptops, except for its mammoth price.
The MacBook Air has a core i5 CPU processor and 8Gb of RAM produced with the best technology to rival and even dominate its counterparts that boast twice its figures when it comes to performance. The audio system is simply superb, and its audio receptors are also great at picking out the sounds it should, as evidenced by the flawless performance of Siri, Apple's famous voice assistant, even in crowded areas. The True Tone technology that was initiated in the iPhone XS MAX looks so much more at home in the MacBook Air than ever, seamlessly adjusting color temperature by exploiting ambient lighting.
The MacBook Air also steals the thunder of the Huawei MateBook X Pro to provide a touch ID option that similarly speeds up the signing in process but goes further to function as a nicer way to speed up transactions with Apple Pay. Furthermore, it scoffs at its rivals by only providing a futuristic deal with only USB-C thunderbolt ports. Something pessimists can explain to a limitation despite the idea.
The machined aluminum chassis of the MacBook Air will shield it from such negativity while contributing to the 2.8 lbs weight that still allows it to be called the best lightweight laptop with long battery life.
Design is top-notch
Magnificent Screen
Wonderful Battery
Cheaper than its predecessors
Not enough storage space
Expensive upgrades
Apple Macbook Air
Apple MacBook Air (13-inch, 8GB RAM, 128GB Storage, 1.6GHz Intel Core i5) - Space Gray (Previous Model)
4. Lenovo Ideapad 530S
No products found.
While there some really expensive small light laptops for traveling that are heavy on your pocket (say  MacBook Air), the Lenovo Ideapad 530S is truly lightweight in every sense, including its price. Obviously, being cheap is not a difficult thing to achieve, but being something of great quality that is available at budget price is really something to admire.
Starting from the way it looks, with a clever design that makes use of Aluminum the way it is meant to be used to create a piece of lightweight tech that is easy on the eye and elegant looking enough to be worth twice it is priced at. What about 8Gb of RAM, 256Gb of SSD memory and a core i5 processor as the intelligence of this small light laptop that is perfect for travel? It really is a snip.
Of course, it is not perfect, it's battery is not frankly as good as the more expensive options worth their price and its bland display is a tasteless compliment to the slim bezels that adorn it. Regardless, it is a great deal.
Aluminum is a reliable option
inexpensive
Smart performance
Looks good
Holds the much-awaited Ice-Lake processors from Intel
Average Battery Life
Terrible Speakers
No products found.
5. ASUS VivoBook 15 Ultraslim
Just a look at the name easy reveals what qualifies the ASUS VivoBook 15 to be in this list. Interestingly, it enters this list of lightweight laptops despite having a wider 15.6" screen compared to the competition. That is a testament to how slim it was made to be, and gives it an advantage with a bigger screen affording users more screen space. You can call this piece of work the best example of how laptop real estate should be shared.
The performance of the ASUS VivoBook 15 Ultraslim is ironically robust, with a core i7 processor and 8Gb RAM running at 2.4GHz birthing a total machine that doesn't take up the whole room. Its webcam has a 1920×1080 resolution size and a microphone and it has different ports for connectivity, ranging from USB 2 and 3 to USB-C and even HDMI. Its connectivity also enlists the qualities of Wi-Fi 6 and Bluetooth 5.0 to give you the latest of everything.
Weight of this lightweight laptop is also ironically on the high side, with 3.97 pounds the official number put to the weight of this beauty. But that won't bother you, not when you consider how wonderful this travel laptop package is.
Beautiful to look at
Available in eye-catching colors
Wonderful cooling system
Cheap
Bland Display
Easy to notice bloatware
6. Microsoft Surface Book 2
If there was ever a lightweight laptop that achieved the unexpected by being born, it is the Microsoft Surface Book 2. After all, no one expected it to become an absolute machine that costs more than an Apple equivalent and is worth every penny.
Well, what can you say to technology with 8th generation Intel Core i5 processor and 8GB of RAM that can run up to 4,200GHz with Turbo Boost? Blessed with NVidia GeForce GTX 1060 a and 512GB of SSD memory space. The Microsoft Surface Book 2 has two cameras of splendid quality, which is a first since this would be one of the webcams that deliver a lot more than silhouettes to users. A rear-facing 8 Megapixels camera and front camera of 5 Megapixels capable of Hello-Face Authentication features.
Its weight narrowly makes it lose its place in the bracket of lightweight laptops, with 3.3 pounds of weight the price to pay for such a great travel laptop, but it more than makes up for this with its tablet form. When detached, there are fewer lighter options than the 1.6 pounds of the Microsoft surface laptop and few less thick than its 0.3 inches that are based on the Dynamic Fulcrum hinge idea that holds the entire system together for better balance.
The battery life is also outstanding, with 70Wh being one of the best deals you can see in the market, while its tablet has a 18Wh battery that is equally impressive. You won't really see many lightweight laptops with long battery life that better the Microsoft Surface Book 2.
Robust Battery Life
Large, yet lightweight
Doesn't get hot
Performs like a beast
Tiny trackpad
Expensive
Sad to see no Surface Pen in the Pack.
Sale
Microsoft Surface Book 2
Microsoft Surface Book 2 Features a 8th generation Intel Quad Core i7 Processor, 512 GB of storage, 16 GB RAM, and up to 17 hours of video playback
7. Razer Blade Stealth 13 Ultrabook
Thin, light and known for its massive gaming prowess compared to its size, there are too many reasons why the Razer Blade Stealth 13 Ultrabook deserves a place here. Its price however is on the extremely high side, and the question of whether it is worth it or not is wholly dependent on your affection for quality.
In truth, the basic Razer Blade Stealth 13 Ultrabook is expensive enough, but it doesn't have enough power to do the work that you might require of it. What does, is the $300 more expensive option that comes with NVIDIA GeForce GTX 1650 GPU. That puts the outlay required to own this piece in perspective.
Nevertheless, it's a fine piece, with a nice-looking RGB LED keyboard to say the least and a neat black-colored Aluminum Chassis to round up how it looks on the outside. For Gaming and heavy duty work on the move, look no further.
Crazy-Good Graphics
Tough Build
Nice-looking Design
Holds the much-awaited Ice-Lake processors from Intel
Gets hot while working
Easy to get smudged with fingerprints
Key Points for Consideration Before Buying?
Dimensions
What qualifies a laptop as a lightweight option is its physical properties. Is it heavy? Is it too wide? Is it bulky? Then it's not exactly lightweight is it? Look below 14″ for screen size, less than three pounds for its weight and about 0.7 inches or even less as far as thickness is concerned.
Connectivity
It is inevitable that while you're on the move you'll need to exchange data with other devices, and regardless of how effective wireless options have become, there is simply no easy replacement for hardware channels like USB ports. So be sure that what you get has a good number of ports. It will even be better if they are great options like the Thunderbolt-3 or Type-C ports. If it has DisplayPorts, HDMI ports and the like, then get ready to click buy.
Toughness
There's little point in getting a lightweight laptop made of glass when it'll be used in rough conditions. While it depends on what you wish to use the laptop for, it's obviously safer to get a solution that will last till its value is redeemed many times over.
Aesthetics
A lightweight laptop designed with careful consideration and grace can prove to be a greater fashion statement than shoes. It also makes it more appropriate for different conditions. Essentially, you want an effective digital assistant that is appealing in both price and looks and that's not too much to ask.
The Best Lightweight Laptop with Long Battery Life: Final Thoughts
At the end of this article, you must have realized that there are different definitions to the word lightweight, based on personal preference. It could be its weight, size, dimensions or even price!
Whatever the case, these 7 options represent the very best the tech market has to offer for people looking for lightweight tech assistants to help them on the go. Now, make your choice!
You may also like: