Go-karting, without doubt, is the most affordable motorsport out there to get you your adrenaline rush. Whether you are an amateur or an expert, one of the most important things that should be taken care of while you go-kart is safety. Keep on reading to find the best karting helmets available in the market.
Unlike in other sports like auto racing, in go-karting, you leave yourself exposed to the high-speed environment around you, which requires extra care towards safety.
While talking about safety gear, the foremost thing one needs to know about is the safety helmets. For example, in go-karting, it is recommended to use Snell-certified motorsport helmets because it is much safer and more reliable if it's stricter certification requirements.
*The product links in this post are affiliate links, which means that if you purchase after following one, I make a small commission from the sale at no additional cost to yourself. Please see our disclosure page for more information.
My Top Picks
What kind of helmet is best for go karts?
Firstly, remember that you are buying the helmet primarily to safeguard yourself from injury. While appearance and looks and essential, they should never be the deciding factor for your purchase.
While second-hand gear is always more affordable, you should never rush into buying one of those. Barring the hygiene issues, you can never trust a pre-owned gear's integrity and shouldn't compromise your safety to save a few pennies.
Also, it is vital to know the longevity of the helmet. This is so because all Snell helmets have an expiry date printed on them, beyond which it is no longer legal or viable.
So with that said, here is our curated list of top helmets for go karting considering factors like affordability, safety, weight and looks. A list that will help you choose your ideal go kart racing helmet to keep you going (and karting).
Best Karting Helmets
1. RaceQuip Full Face Karting Helmet PRO20 Series
Key helmet features
Snell SA2020 Rated (Sticker Affixed)
HANS / HNR M6 Threaded Inserts In Shell
FRP Lightweight Composite Shell
Distortion Free 3mm Polycarbonate Low Fog Shield
Great Peripheral Vision; Silicone Eyeport Seal Keeps Out Dirt, Kevlar Chin Strap, Aluminum Pivot Kit W/Adjustable Friction Lock, Tear-Off Posts Hand Ratchet To Eight Positions
Hook & Loop Fastened Removable Cheek Pads; Slick Aero Design With Chin Spoiler
The RaceQuipFull Face Helmet PRO20 Series has been designed with safety, comfort, and style and is the perfect go kart Helmet. In addition, the helmet has an upgraded paint job that includes fire retardant for maximum durability that will not chip or flake.
It includes a very clear 3mm polycarbonate visor that offers distortion-free vision, which allows the driver to have unrestricted peripheral vision. These carbon fiber helmets also comes with slicked-back detailing, so it looks fantastic without being too bulky for professional go kart racing.
This helmet has an advanced high impact; low density expanded polystyrene (EPS) inner shell that absorbs energy upon impact. This prevents the helmet from cracking, so it can certainly save your life in case of an unfortunate incident on the kart track!
2. Conquer Carbon Fiber Full Face Auto Go Kart Racing Helmet
Key helmet features
Snell SA2020
Airflow vents for comfort
A 3mm anti-scratch, low fog, and flame resistant shield.
A lightweight and safe helmet that looks great too!
This Conquer Carbon Fiber Full Face Racing Helmet offers all of the safety features you need for go kart racing. The lightweight composition and aerodynamic construction mean that this helmet will not weigh you down during races. This helmet fully complies with Snell SA2020 regulations and includes a padded interior with fire retardant to keep you safe. It also has great airflow vents for comfort so you can stay cool during all-day-long races.
The 3mm anti-scratch, low fog, the flame-resistant shield is also included on the carbon fiber base. This shell has slicked-back detailing to look fabulous without being bulky for racing karts!
This Conquer Carbon Fiber Full Face Racing go kart Helmets is an excellent option for the go-kart racer looking for a lightweight and safe helmet that looks good too!
This helmet is designed for automobile racing; it is not regulated by US DOT or approved on public streets or roads (per agreement with manufacturer).
3. Bell Qualifier DLX Full-Face go kart Helmet
Key helmet features
The extremely durable construction of this helmet works to prevent wear for the duration of its lifetime.
It includes a removable/washable liner so you can stay cool during all day long races with velocity flow ventilation systems.
This helmet meets both DOT requirements, ensuring your safety during your kart race.
The Bell Qualifier DLX is an affordable go-kart helmet designed with safety, comfort, and style for go kart racing. The sturdy yet lightweight material of this helmet works to prevent wear for the duration of its lifetime.
It includes a removable/washable liner so you can stay cool during all day long races with velocity flow ventilation systems. This helmet meets both DOT requirements, ensuring your safety while go-karting!
The helmet is DOT approved, and it meets the FMVSS 218 Standard. It also comes in various colors, and it includes two shields, one clear (for use while racing) and one dark smoke (for use while riding).
4. Bell Racing K1 PRO CIRCUIT go kart helmet
Key helmet features
Superior Ventilated Helmet and aero styling
It can be used in open-wheel or closed cockpits with different intakes
Lightweight construction
Comfortable fit
Bell Racing's K1 Pro is a race-ready, multi-use, go kart racing helmet with superior ventilation, and aero styling.
The Bell Racing team designed the helmet to be lightweight and incorporate multiple ventilation options for both open-wheel races and if one chooses to close their cockpit. Drivers can also use the K1 Pro in an open of wheels configuration with an intake piece or in closed cockpit mode with forced air intake sold separately.
The K1 Pro is an ideal helmet for go karting and is also suitable for open-wheel racers and closed-cockpit drivers who seek exceptional performance and features in their racing equipment.
5. RaceQuip PRO15 Karting Helmet
No products found.
Key helmet features
Snell SA2015 rated helmet
Fiber Reinforced Polymer (FRP) shell
Reinforced M6 threaded HANS/HNR inserts
3MM polycarbonate face shield
Wide eyeport for personal eyewear and ventilation on top and back of the shell
The RaceQuip PRO15 is a Snell SA2015 rated full-face racing helmet that can be used for any motorsport. With reinforced HANS/HNR inserts, the fiber-reinforced polymer (FRP) shell is lightweight and affordable with an attractive design. The 3MM polycarbonate face shield provides good visibility, while the wide eyeport allows you to wear personal eyewear and stay cool at races by providing vents on both the top and back of the shell.
Since its SA rating has fire retardant properties, it can be worn at all forms of automotive racing events requiring helmets such as go-karting and others mentioned above. Alongside these great features, this helmet is designed in a sleek and stylish aero style which comes in many colors.
The RaceQuip Pro15 is another excellent helmet for go-karting with its lightweight composition, comfortable fit, and modern safety equipment measures.
No products found.
6. Sparco X LNR Air Pro Kevlar/Fiberglass FIA Cool Karting Helmet
Key helmet features
Lightweight shell reinforced with Carbon-Kevlar for strength
Center push-button release visor (Clear included)
Compatible with drink system and intercom systems
Snell SA2015 and FIA 8858-2015 approved
A high-quality fiberglass composite shell reinforced with layers of carbon-kevlar makes up the Sparco X LNR AIR PRO helmet. Both FIA 8858-2015 and Snell SA 2015 standards have approved it as a certified karting helmet, assuring that it will protect you from whatever a race track may throw your way.
The shell and polystyrene fillings are in doubled quantity to provide maximum ventilation, designed and produced to meet strict standards. Also, the visor can be unlocked with one hand using a center push button while still maintaining the highest safety rating possible.
The helmet's internal components can all be taken out, repositioned, and washed. The visor is also completely adjustable, with the capability to be positioned at any angle.
The AIR PRO helmet comes prepared with HANS device clips built in. In addition, this product is available in seven different sizes and two other color options.
7. Zamp RZ-36 SNELL SA2020 Cool Karting Helmet
Key helmet features
Composite Fiberglass Lightweight Shell
7-Top Air System in addition to Chin, Scalp, and Exhaust Vents
Plush Fire Retardant Interior
Z-20 Series 3mm Clear Shield with Tear-Off Posts
Removable/Washable Comfort Liner
The Zamp RZ-36 karting helmet is light-weight, and provides superior fit, finish, and features, ensuring it is among the best value go-karting helmets on the market. In addition, this model is SA-2020 certified and loaded with features, ensuring safety at a great price.
This helmet has a composite fiberglass lightweight shell, 7-Top Air System for ample ventilation in addition to exhaust vents in the chin area and scalp area as well as plush fire retardant interior.
The inner pads and removable comfort liner can be removed for washing or replaced to create a personal fitting.
8. Typhoon Snell SA2020 Approved Full Face Go kart Racing Helmet
No products found.
Key helmet features
Lightweight composite shell
Soft lined interior
Kevlar chin strap with D-ring closure
3mm optically correct hard coated face shield with eyeport gaskets to keep out dust and debris
If you are looking for high-performance gear that won't cost you a fortune, then the Typhoon Racing Helmet is perfect for you.
The high-quality helmet offers comfort and safety to the user with its cushioned interior, rear exhaust vents, and Kevlar chin strap with D-ring closure. The fire-retardant fabrics have been approved and tested by the Snell Memorial Foundation. It also features a 3mm optically correct hard coated face shield with eyeport gaskets to keep out dust and debris.
The helmet has a plush soft interior which is great for keeping your head cool. In addition, the manufacturer's warranty offers a lifetime warranty against defects in material or workmanship.
Also, if you don't feel like lugging it around with you, the carbon fiber composite shell is lightweight and weighs roughly 3lbs 10oz, while the Fiberglass composite shell weighs approximately 4.00 lbs. Finally, the helmet comes with a soft helmet storage bag. This product has everything you could ever hope for in an affordable racing helmet!
No products found.
How do I choose a go-kart helmet? | Buyer's Guide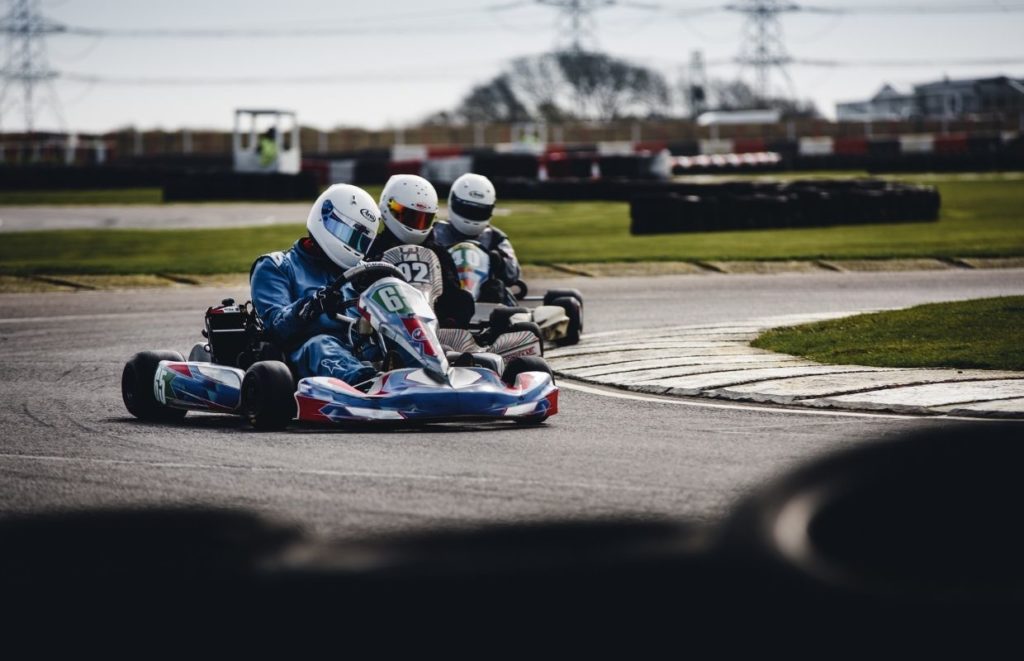 I agree that engaging in sports is all fun, but you need to stay safe as you are always go-karting if you want to go again. You need a preserved head to go on racing as you love to.
Getting good motorcycle racing helmets before engaging in this sport is just as important as the sport itself. You don't just stop at getting a helmet. You have to get the best karting helmet to keep you safe from collisions or head traumas if any occur in the course of the game. This is something to keep on your mind all the time.
Getting the best helmet for go-karting may seem stressful, especially if you are lost in the exact qualities an ideal go-kart racing helmet should have. First, of course, the optimal helmet should provide maximum protection, but that isn't all that there is.
The ideal go-kart helmet should provide maximum protection combined with other exceptional qualities to make it the perfect helmet to use in this sport- the helmet you will enjoy.
On choosing the perfect helmet features for this purpose, the beautiful looks of a prospective racing helmet you want to purchase shouldn't be the only parameter affecting your choice to buy a helmet.
This article will guide you through qualities you should consider when buying a helmet for go karting, which is way more important than its looks. When looked out for in your choice of a racing helmet to go-karting, these qualities will go a long way to help you in this sport.
To start with, the quality never to compromise on while choosing a carting helmet is the SNELL rating. Without a proper certification to prove the SNELL organization has authorized the helmet, you will encounter problems racing with your helmet choice in any professional go kart racing competition, even if it has the most stunning looks.
Also, look out for a full-face helmet as well. Full-face helmets are the only kinds of kart helmets approved by the SNELL foundation. A helmet with a finely designed cut may be accepted on very few occasions outside of a recognized karting competition, but never on one.
SNELL rating is essential, so it's pertinent you look for the sticker, which is usually gold, that shows approval from the foundation. Always ensure your safety equipment complies with their standards, as there are stickers to show for it.
Consider your purpose of getting a helmet, as different helmets for go karting are made suitable for other purposes and racing conditions. Auto racing go kart helmets varieties include the SA-rated helmets, the K-rated helmet, and the M-rated helmet. M-rated helmets are pretty acceptable in karting, though they are best suited for motorcycling racing instead and not a karting helmet. The ideal karting helmet should either be K-rated or SA-rated for the best experience.
As you consider an affordable helmet in your survey of one to go-karting with, never forget to demand superior features. Getting the best at a higher price is a better offer than getting one damaged before the end of a season.
Though these features are the most critical safety standard-centered features you should never compromise on, other helmet features to expressly look out for as you seek the perfect karting helmet include . . .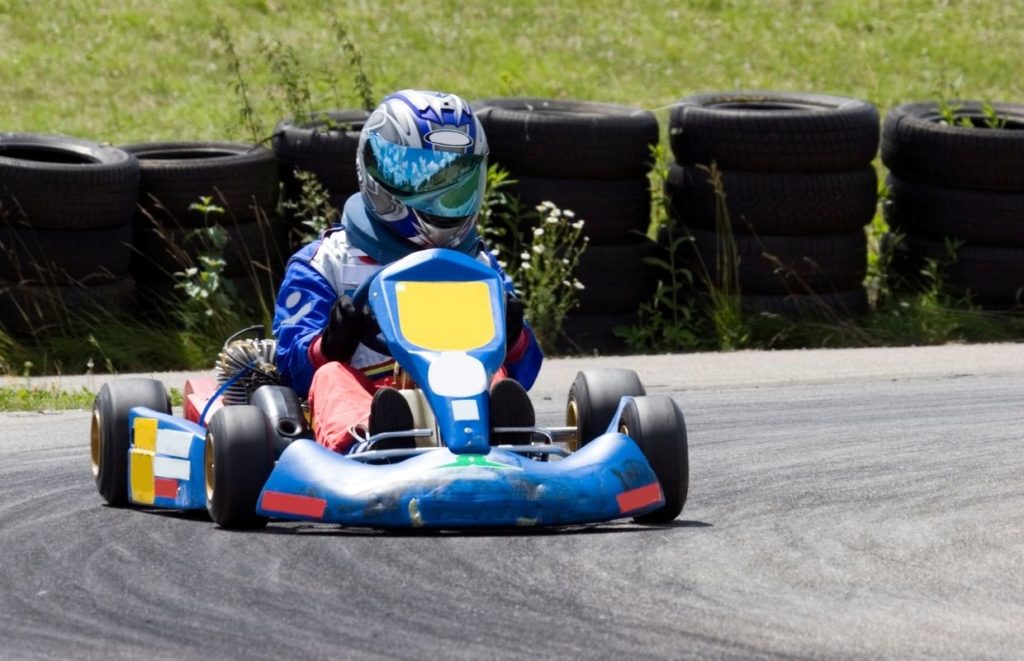 Size
The helmet size is also an important factor to avoid cases of the helmet flying off your head in the course of Kart racing or a helmet tightly squeezing your face in a competition. A helmet that fits you just perfectly is what you should look out for, not one a size too small or big. A kart helmet will do its job of protecting you if it is your exact fit.
Lightweight Material
A posh-looking kart helmet that is efficient, protective yet lighter for your head and neck to support is a huge plus. There are fewer chances of your neck getting seriously injured while kart racing with a lighter weight construction.
A lighter-weight helmet can also increase your speed, as the chances of you holding onto a heavier-weight helmet can be quite strenuous. The last thing you want while karting is a reduced speed. Look out for easy-cleaning composite helmets with a sturdy but lightweight material.
Good ventilation
Considering you would be putting on your helmet for every race, ensure your helmet choice is made with more than one exhaust vent aside from that beneath your chin. The more richly ventilated a helmet is, the better.
A helmet with more exhaust vents helps you maintain an optimal exchange of air. Hence, dispensing heat and the carbon-filled air you breathe out is easier. This prevents fogging of your visors. To add, you wouldn't want to stay gasping for warm natural air while you are go-karting. Having an extra exhaust vent helps prevent occurrences like this. That's why you should always look for a ventilated helmet.
Good Eyeport
The eyeport of every helmet determines your vision field, so it is a necessary quality. While you are go-karting, a helmet with an eyeport wide enough to provide a full view of your environment is always the best bet. This will help you kart safely, as it helps you stay aware.
Detachable Visor
A karting helmet that accommodates a variety of visors is a better advantage every time. The severally designed and purposeful visors available are pertinent in go-karting to help your vision of the race track in whatever weather you are racing in. A visor treated with water repellant would aid you in humid weather, as a tinted visor will prove helpful in extremely bright weather. Come rain, come sun, you are sure your helmet features have you covered in all weather.
Cozy Inside I can't emphasize how comfortable you should be when you survey helmets to purchase. Spending money on an elegant helmet you wouldn't be comfortable in isn't at all worth it. In buying a comfortable helmet, check for one with forehead foam and cheek pads you could travel distances with. Removable cheek pads are important enough to demand that you double-check on your market survey until it's there.
Can I use a motorcycle helmet for karting?
No, you can not use motorcycle helmets for Karting. Motorcycle helmets are Snell M certified (e.g. Snell M2020), whereas go-kart racing helmets are Snell K certified (e.g. Snell K2020).
Snell M and Snell K certified helmets undergo similar tests, but have different parameters. Their design and application elements also differ, so they are certified by Snell differently.
It's vital to be well-protected in motorsports, as safety should always be the primary concern. In spite of the fact that all helmets are designed to protect the head from injury, there are different types of motorsport helmets.
How do I know a karting helmet that fits?
Just try it on. A karting helmet that is comfortable, light, and doesn't scratch yet fits is a good one. Usually, these helmet sizes are denoted in centimeters, so a few centimeters bigger than your head is most likely the perfect fit.
I'm going kart racing with friends soon, what is the most current SNELL rating?
Most recent racing helmets are certified to SNELL SA2020. Ensure your helmet has this to be up to date
How often should I replace my helmet?
It is often recommended that a racing helmet should be replaced at most after five years. This means a helmet can be changed earlier if a problem has been detected with it.
Are karting helmets different?
Yes, there is a difference between normal helmets and a Go-kart racing helmet.
You should always wear a full-face helmet made from fiberglass, carbon fiber, or composite material when racing go-karts.
Conclusion
So here ends the list of top 8 Go Karting helmets. For final thoughts, make sure you choose the ideal helmet for yourself ensuring total safety and sporting a dazzling look at the same time. Do not hesitate to go a penny here and there from your thought-of budget, if it gets you a helmet that will last longer than others.
Keep racing and Keep going.